"This powerful film draws from Elders' memories and historical artifacts in order to detail the history of The Pass System – yet another example of the regulation and control of Indigenous people through colonial policies created by the Canadian State."
– IDLE NO MORE
Written, Produced & Directed by Alex Williams
Executive Producer James Cullingham
Narration Tantoo Cardinal
Music Composed and Performed by Cris Derksen
Cinematography Alex Williams
Editor Igal Hecht
The Pass System is an independent production by Alex Williams made with assistance from the Canada Council for the Arts, the Ontario Arts Council and the Toronto Arts Council, with many community supporters, and produced in association with Tamarack Productions and distributed in Canada by VTape.

DISTRIBUTED IN CANADA BY:
Please contact V Tape

to purchase a copy of the film for your organization, educational institution, or association, or for screening requests in your community. 
We're almost ready yet for individual sales of the film, so please send us an email at info@thepasssystem.ca, to let us know you're interested, and we'll let you know when it's available. Again, if you represent an educational institution or and organization, the film is available NOW. Contact Vtape at the above email or phone. You can also like the Facebook Page or follow us on twitter @thepasssystem, as we announce there.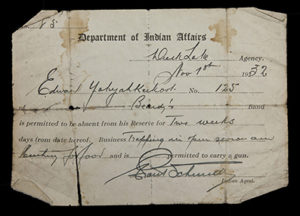 Dark history of Canada's First Nations Pass System Uncovered in Documentary  CBC NEWS
Conflict, Coercion, and Settler Colonialism in Western Canada  CANADIAN DIMENSION
'The Pass System' explores dark chapter in Canadian history  TORONTO STAR
The Pass System: illegal confinement of "rebel Indians"  APTN INFOCUS
First Nation reserves prior to 1960s were 'open-air prisons'  REGINA LEADER-POST
Canada's Secret History of Segregation  NOW
See full list of media here