SCREENINGS: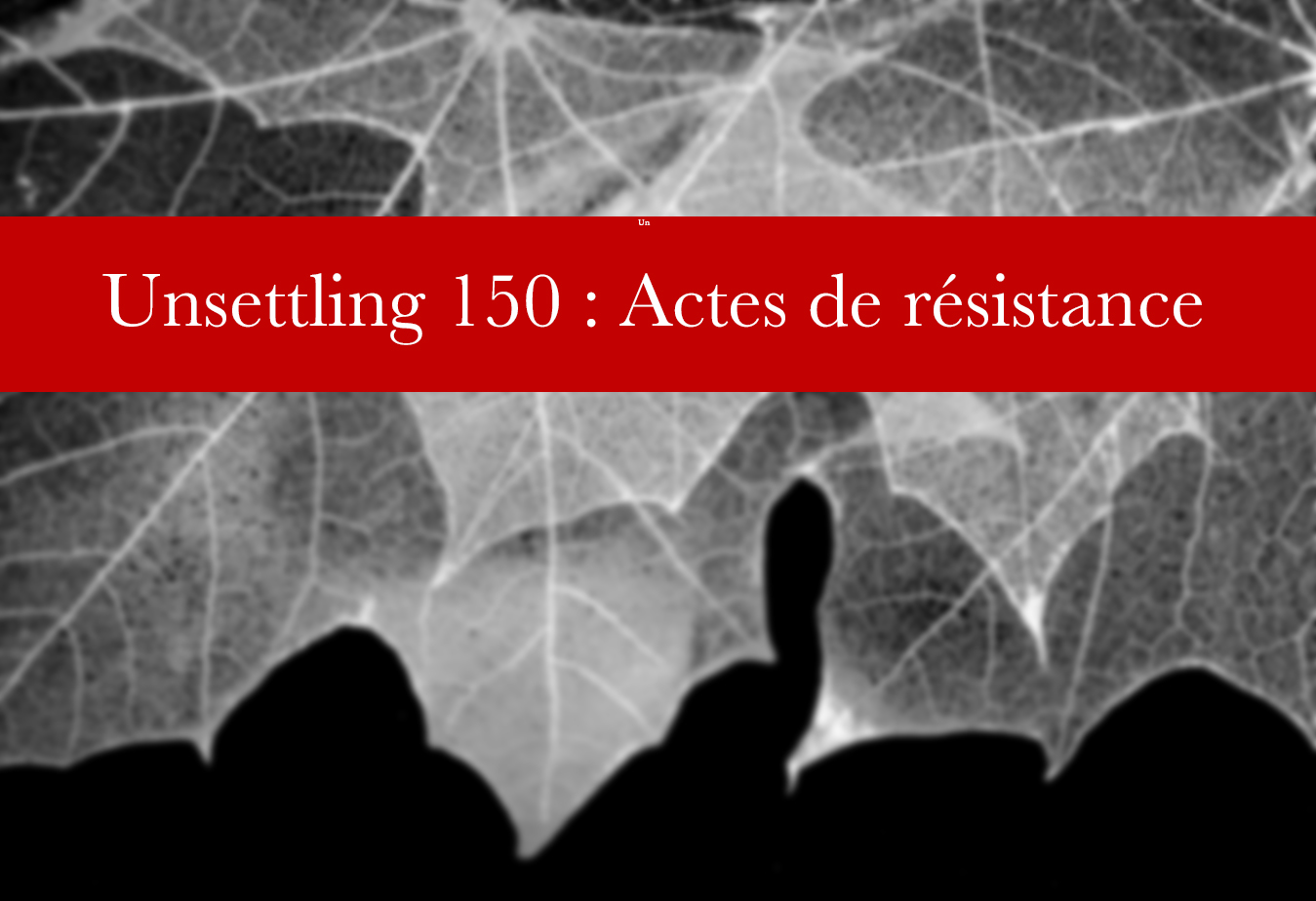 CANADA DAY WEEKEND – FREE ONLINE SCREENING
as part of "Unsettling 150: Actes de résistance"
Friday June 30 to Sunday July 2.
Two Canadian independent media arts organizations—Vtape and Cinema Politica— have joined together to present the following film and video program for free streaming during this year's "Canada Day" weekend. The Pass System is one of these films.
Acknowledging here that these films and videos will screen in many traditional territories across this country, often unceded or subject to broken treaties, are sacred lands to many Indigenous nations. 
Many of the films here may stir in you the desire for change, and the will to act. Especially on this weekend, consider Idle No More, in their calls for:
1. A new open truly Nation-to-Nation recognition process that begins by fully recognizing collective Indigenous rights and Title, and our decision-making power throughout our territories.
2. Full implementation of the Truth and Reconciliation Calls for Action, including rejecting the colonial doctrines of discovery and recognizing Indigenous self-determination.
3. Full implementation of the United Nations Declaration of the Rights of Indigenous Peoples on the ground.
To arrange a screening for your community, contact us at info@thepasssystem.ca
Première: 2015 Vancouver International Film Festival
Yellowknife International Film Festival
Mispon: A Celebration of Indigenous Filmmaking (Opening Night Film)
TIFF Bell Lightbox
Salt Spring Film Festival
Sakewew High School, North Battleford
Poundmaker First Nation
North Battleford Public Library
Northwest College, North Battleford
Beardy's and Okemasis First Nations
University of Saskatchewan
Broadway Theatre, Saskatoon
The Scene Festival, Saskatoon
Station 20 West Community Centre, Saskatoon
Scyap Youth Arts Centre, Saskatoon
George Gordon First Nation
Carry-the-Kettle First Nation
Bert Fox Community School, Fort Qu'Appelle
Balcarres High School, Balcarres, Sask
Carleton University, Ottawa
Smith College, Northampton, MA
University of Massachusetts, Amherst
Ontario Institute for Studies in Education, University of Toronto
Shelf Life Books, Calgary
University of Lethbridge
Kainai First Nation
Piikani First Nation
Onion Lake Cree Nation
University of Edmonton
University of Regina
York University, Toronto
First Nations University of Canada, Regina
St. Mary's High School, Prince Albert
History of Indigenous Peoples Research Group, York University
University of Toronto – Scarborough
University of Waterloo
Gzowski College, Trent University
McMaster University, Hamilton
Huron College, Western University, London
Laurentian University, Sudbury
Wanapitei, Trent University
Blue Quills University, St. Paul
Vancity Theatre, Vancouver
Cinema Politica, Montreal
Woodland Cultural Centre, Brantford
Northwest Fest, Edmonton
Enoch First Nation
Globe Cinema, Calgary
Calgary Public Library
Winnipeg Art Gallery, in association with the Treaty Relations Commission of Manitoba, and the National Centre for Truth and Reconciliation
Lower Fort Garry National Historic Site, in association with the Treaty Relations Commission of Manitoba, in commemoration of the Making of Treaty One
2016 Bay Street Film Festival, Thunder Bay, ON
McGill University
2016 Lunenburg Doc Festival, Lunenburg, NS
Canadian Museum of History
Library and Archives Canada
OCADU
KDocs